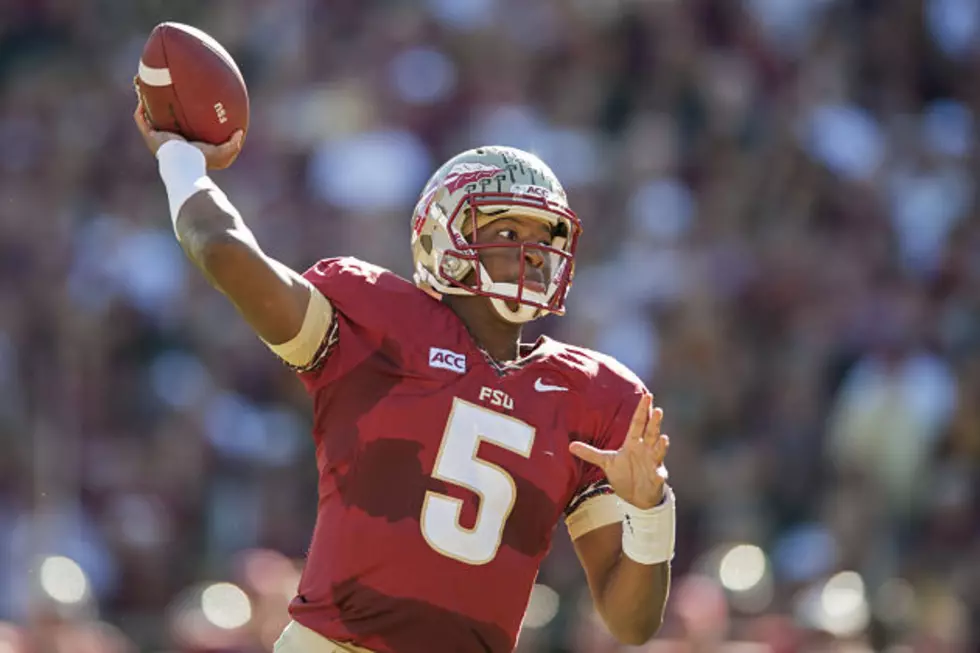 College Football 2013: 5 Big Questions for Week 10
Jeff Gammons/Getty Images
It's an intriguing week in college football. There are only three matchups between ranked teams, and seven of the Top 25 are on byes. But there are some big rivalry games and plenty of big names on upset alert. Here are some of the big questions this weekend:
Can Miami Roll the 'Noles?
It's not often that you see the seventh-ranked team in the nation listed as a three-touchdown underdog. But that's exactly the situation in which Miami finds itself as the Canes go on the road against No. 3 Florida State. The Hurricanes face the tough task of trying to become the first team this season to slow down Florida State's star quarterback Jameis Winston. The freshman phenom is completing nearly 70 percent of his passes this season, for 2,177 yards, 23 touchdowns and just four interceptions. However, he'll be tested by the toughest defense he's faced to date—Miami gives up under 18 points per game, good for 11th nationally.
In their last three games, however, the Hurricanes have needed double-digit comebacks to get the win. With Florida State's potent offense (they've won their last three games by a combined 142 points), it is highly unlikely that Miami will be able to pull off a similar feat this week. The Hurricanes will need to keep running back Duke Johnson and their offense on the field and score some points early if they hope to pull off the upset. For much of the last three decades, this was one of college football's fiercest rivalries. It's good to see this game once again having an impact on the national title race.
Who Will Win the Turnover Battle in Lubbock?
No. 15 Texas Tech boasts the nation's fifth-best offense and, despite starting two freshmen quarterbacks, the nation's third-best passing attack. However, the Red Raiders also rank ninth nationally in turnovers with 19, a fact which caught up with them in last week's loss at Oklahoma. This week, Tech will look to keep pace in the Big 12 against No. 18 Oklahoma State and an opportunistic defense that is eighth in the country in interceptions and has 12 takeaways in its last three games.
While Oklahoma State found a running game in last week's win over Iowa State, it is unlikely that the Cowboys offense will be able to go toe-to-toe with Texas Tech, so defensive stops and turnovers will be key for OSU's chances to get away with a road win. The winner of this game will still be very much in the Big 12 hunt, as both still have to play conference leaders Baylor and Texas. However, the loser will be saddled with their second conference loss and would be all but eliminated from contention. So there's a lot riding on this game for both teams. OSU has won four in a row against Tech, the last two by a combined score of 125-27.
Will the In-State Michigan Rivalry Decide a Spot in the Big Ten Championship?
With Nebraska's collapse last week at Minnesota, this Michigan-Michigan State rivalry could well determine the winner of the Big Ten Legends division. The No. 22 Spartans boast one of the nation's best defenses, having given up just three points in its last two games and leading the nation in total defense. However, the Spartans will be facing their toughest test thus far against No. 21 Michigan and an offense that ranks eighth nationally in scoring and has averaged 48.3 points in its last three games.
Turnovers could be a key in this one: Michigan is minus-two in turnovers and quarterback Devin Gardner has already thrown 10 interceptions this season. While Michigan State's offense is no match for the Wolverines', a couple of Michigan turnovers could well swing this game in the Spartans' favor. Michigan won this game last season, but the Spartans have taken four of the last five.
Can Florida's Defense Help the Gators Knock Off Georgia?
The World's Largest Outdoor Cocktail Party has lost a bit of luster this season, as both teams have been pretty much eliminated from contention in the SEC East. But still, when two of college football's biggest institutions meet in Jacksonville for one of the nation's best rivalry games, it promises to be entertaining.
Georgia quarterback Aaron Murray has already set most of the Bulldogs' school passing records and is hoping to go out with three straight wins over the Gators. He'll be tested, though, by a stingy Florida defense that ranks fifth nationally in pass defense and eighth in scoring defense. However, Florida's biggest problem may not be Murray but finding away to score some points themselves. The Gators have only reached 20 points four times this season. And while Georgia's defense isn't great, it's hard to imagine Florida suddenly getting enough of an offensive explosion to win a shootout with the Bulldogs.
How Hot Is Bo Pelini's Seat?
Nebraska's Bo Pelini already had his share of doubters after several embarrassing losses in big games. Things only got hotter earlier this season following an embarrassing loss to UCLA and the subsequent release of a two-year-old recording of his profanity-laden tirade about Nebraska fans and local media members. But things might have reached a fever pitch last week when Nebraska was manhandled in a 34-23 loss at Minnesota, a team to whom the Cornhuskers had not lost since 1960. Pelini's squad looked uninspired, confused and, frankly, poorly coached in the loss, raising more questions about Pelini and his staff.
This next month begins the Cornhuskers' most telling stretch of the season, with games in November against Northwestern, at Michigan, vs. Michigan State, at Penn State and vs. Iowa (a combined 26-12). The Big Ten championship game is likely out of reach for Nebraska and, given all the strikes he already has against him, it may be difficult for Pelini to overcome many more losses down the stretch.