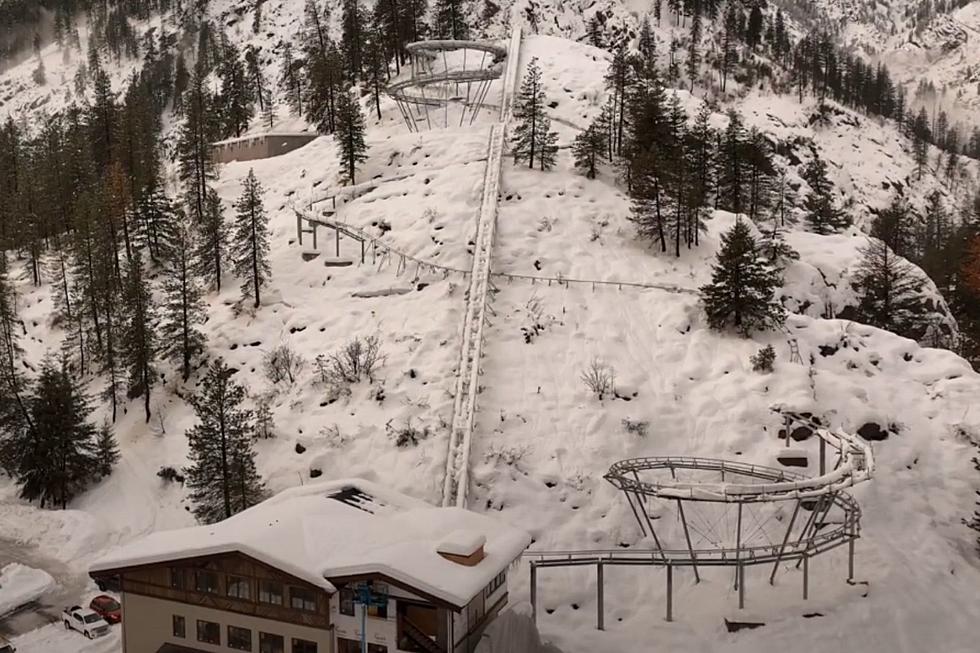 When Will the First Alpine Coaster in Washington State Open?
credit YouTube @rimmerroeterconstructionin5905
The First Alpine Coaster in Washington State
Did you know a one-of-a-kind alpine coaster is almost completed but hidden in Washington State?
One of a Kind Coaster, Hidden in the Washington State Mountains
Right now it is covered in snow, but soon it will be open!
"It's an alpine coaster, it's a little different than a regular coaster", says John Sutherland the General Manager of the new Adventure Park being built in Washington State.
In a radio interview with Seattle's Morning News, he talks about the new park being built in Washington that is almost finished and designed with families in mind.
A Coaster Where You Create Your Own Experience
Mr. Sutherland explains how the coaster is unique. "You really create your own experience, you have individual sleds where 1 or 2 people can ride."
Unlike a regular rollercoaster, the alpine coaster has a lever on the sled that allows you to control the intensity of your ride on the fly.
The lever works like a brake, making both adrenaline junkies and the timid happy.
He says "you create your own experience by controlling your speed all the way down. You can go thrilling and fast, or have a nice scenic ride and the view from up there is pretty mindboggling. It is stunning."
Not Just an Alpine Coaster but a Full Adventure Park
The new Adventure Park is not just a coaster, but a family destination with multiple attractions for kids.
"We will have an 8,500 square foot lodge that will have a couple of grab-and-go food stations and a beautiful place to sit and watch everything."
Bungee Trampoline, Climbing Wall, and Mining Sluice
There will also be a "Bungee Trampoline" where you can flip and fly up to 20' in the air.
The park will also have a custom climbing wall with 4 lanes and different difficulty levels for all ages.
Another attraction guaranteed to be popular with the kids is the "Mining Sluice", where kids can pan for treasure like they used to look for gold in the old west.
"We will have the alpine coaster which is the feature attraction but we will also have a custom climbing wall that will have 4 lanes on it. We will have a bunch of trampolines and then this mining sluice activity for kids."-John Sutherland the General Manager
Where is This New Adventure Park
The new park is being built in Leavenworth, Washington. It is called the Leavenworth Adventure Park and is located 1/2 mile from downtown at the entrance to Tumwater Canyon.
There are a lot of events planned during the year in Leavenworth and the main critique in the past was not having enough for kids to do.
"You know there is everything going on here. There's arts, and there's theater, and there are events like the classic Octoberfest" says Sutherland in the radio interview.
Now families have a lot more to do while visiting Leavenworth with the Adventure Park being close to downtown.
When Does the Leavenworth Adventure Park Open?
The Leavenworth Adventure Park is almost finished and scheduled to open in late May of 2023.
Tickets are not available yet, but you can get all the details on their website at leavenworthadventurepark.com. The full radio interview with Seattle's Morning News is also posted there.
The construction of the park is being run by Rimmer & Roeter Construction, Inc, and you can watch cool update videos of the Leavenworth Adventure Park construction progress below.
I know I can't wait to go visit the new Leavenworth Adventure Park with my family, see you there!
These Are a Few of Washington's Favorite Things
To live in Washington is to live by its culture, whatever that means. Compiling many studies and all the data you could never want to review, we created a list of Washington's favorite things.
The 12 Deadliest Serial Killers in Washington State's Bloody History
Every state is known for something. Florida has swamps and beautiful weather, Iowa has wrestling and corn, New York has Manhattan and Brooklyn-style pizza, Maryland has crabcakes. Washington has apples, wine, IPAs, and serial killers. This article is not meant to glorify these evil people in any way, just shed some light on a bizarre Washington truth. From Bundy to the Green River Killer, these are twelve of the deadliest killers in Washington state history.