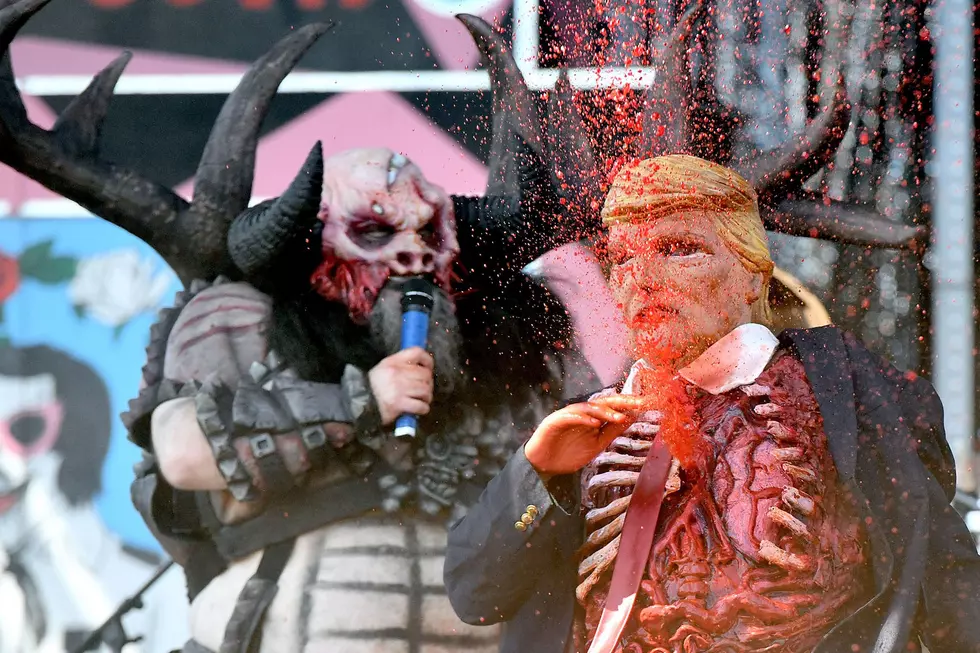 GWAR's 10 Favorite Songs About Killing People
Scott Dudelson, Getty Images
For nearly 40 years, GWAR have been running amok all over this stinking trash heap known as Earth, slaughtering anything that moves while churning out records at a steady pace. Their newest album is The New Dark Ages and, forget about musical influences because we invited front-thing Blothar the Berserker to open up about the band's more actionable influences, spewing his 10 Favorite Songs About Killing People.
The New Dark Ages, GWAR's second record to feature vocalist Blothar, is accompanied by a companion graphic novel, GWAR: In the Duoverse of Absurdity, which is surely lined with the bloodlust, savagery and buffoonery we've come to expect from our lords and masters after being in their servitude for all these years.
Shining a light on other artists whom have written about taking a life, let's leave it to Blothar!
Thanks to Blothar for sparing out pathetic lives by letting him force his way into Loudwire's hallowed annals of lists.
Check out his picks further down the page, listen to the new GWAR song "Berserker Mode" below, get your copy of 'The New Dark Ages' here and order the 'GWAR: In the Duoverse of Absurdity' graphic novel at this location. Follow the band on Facebook, Twitter, Instagram and Spotify.
GWAR, "Berserker Mode"
GWAR's Blothar the Berserker Names His 10 Favorite Songs About Killing People
Iron Maiden, "Murders in the Rue Morgue"

While Steve Harris looks like an old lady, he sure can play the fucking bass guitar. You can't go wrong with ripping off Edgar Allen Poe. This song is based on Poe's short story about a nearly unsolvable murder by a trained ape. The story was an important early example of the detective story and true crime genre. In the hands of Maiden, it became one of their punkier expressions of break neck heavy metal.

Bruce Springsteen, "Nebraska"

Written from the point of view of spree killer Charles Starkweather — who killed 10 people in Nebraska and Wyoming just for shits and giggles — and his child lover Caril Ann Fugate. Li'l Chuckie and his main squeeze were the inspiration for the movie "Natural Born Killers," and they also inspired Bruce to belt out this unapologetic masterpiece of American gothicism. Dave Brockie used to sing this tune on hot, long drives into the blackness onboard the schoolbus we used in the early days of GWAR.

Inspired by the 2001 cannibalism case of Armin Meiwes who ate the wang of an apparently willing victim. "Mein Teil'' reenacts the troubled encounter between the two men that left one dickless and the other with a belly full of weiner. The lyrics do a great job of depicting this freaky scene: A man's life ebbs away while his new found friend literally eats a dick. Best of all, it is sung by the incomparably hilarious Till Lindermann, and set to the muscular, industrial metal of Germany's princes of Neue Deutsche Härte, or "new German hardness."

Nick Cave, "O'Malley's Bar"

Nick Cave is a great lyricist and a uniquely twisted genius. This tune finds him inhabiting the character of a lunatic who walks into a bar and kills damn near an entire town. It's a long fucking song, but damn it's good. An object lesson in storytelling, musical drama and vocal effect.

Celtic Frost, "Into the Crypts of Rays"

Not the best song on this list, but perhaps the most interesting subject matter. Gilles de Rais wore a lot of hats during his short life: Playwrite, French nobleman, soldier, noted military strategist, a boon companion of Joan of Arc, and…a prolific serial killer and child rapist. He was also the inspiration for the legend of Bluebeard. To call him a total freaker is a drastic understatement. Rais put on some weird ass theatrical performances that cost a fortune, hired a double to dress exactly like himself and eventually turned to the occult and human sacrifice to murder a lot, and I do mean a lot, of kids.

Stanley Brothers, "Pretty Polly"

American treasure Ralph Stanley had not yet become the full-time lead singer of the group when the Stanley Brothers rode to Baltimore to record this murder ballad. That would soon change. Though he is young here, he already sounds a hundred years old. The banjo opens like a flower, in contrast to the grim story that unfolds in the lyrics, of the misdeeds of "Little Willy" and his grizzly murder of the young girl who eventually spurns his attentions. Creepy and gorgeous.

Judas Priest, "The Ripper"

What is not to love? One of the greatest metal bands of all time singing about Jack the Ripper sneaking around London. Heavy and infectious with Rob Halford's surprising, dramatic vocal acrobatics, this song is all about the riffs and the catchy as fuck melody.

Howlin' Wolf, "Commit a Crime"

Part of the genesis of rock and roll. The attitude, the voice, the relentless stumble of that rhythm and a hypnotic and heavy as fuck riff are the backdrop for a tale of failed murder. The speaker of the song has survived being poisoned by a woman and is now gonna leave her before he is tempted to commit a crime of revenge. Such a great premise and Howlin' Wolf's razor blade voice almost sounds like he just took a swig of the Red Devil Lye his lover used to poison him.

The song that inspired serial killer Richard Ramirez, the final track on Highway To Hell is a sauntering, ominous, blues-inspired walk through the nightime world of a stalking murderer. I always picture Bon Scott himself, shirtless and drunk, sneaking into a house through an open window. Though hardly subtle, the song still leaves something to the imagination, and lacks the graphic stupidity of say… a GWAR song… but even so, the lyrics set against the vocal delivery and sneaky creeping feel of the music is both deeply disturbing and pure rock 'n' roll brilliance.

Coming out of Austin, Texas, this band was an important part of the American punk scene of the 1980s. The lyrics are written from the viewpoint of a person being eaten alive and are reminiscent of Shel Silverstein, I think. This is made all the weirder by singer David Yow's tortured delivery set against the band's lurching and bombastic punk rock.