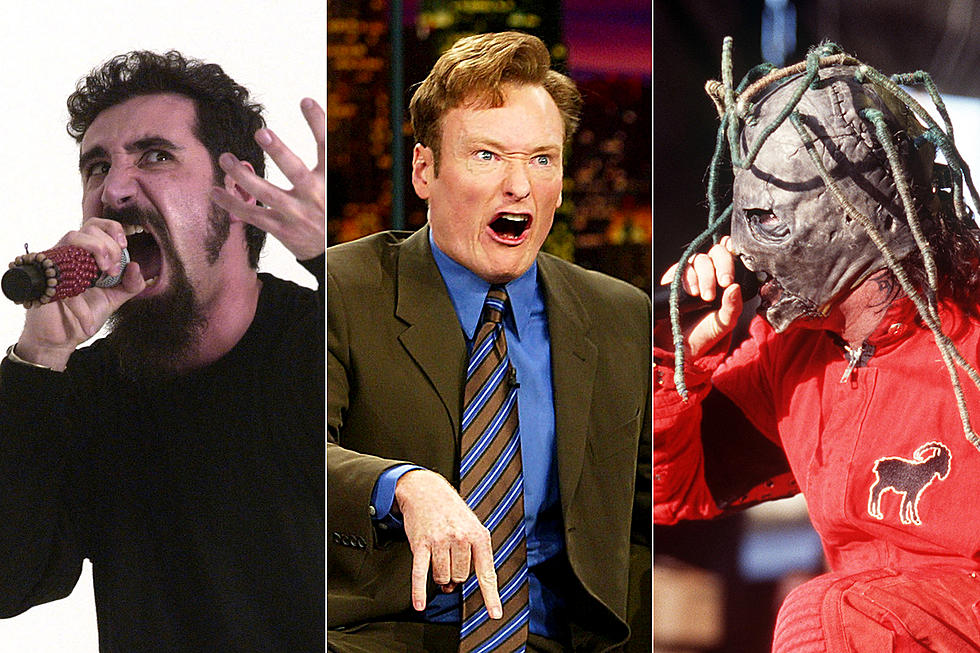 The 10 Heaviest Bands to Play on Late Night TV Shows
L. Cohen, WireImage/Getty Images / Kevin Winter, Getty Images / J. Shearer, WireImage/Getty Images
Heavy metal/rock bands are non commercial and non-mainstream by nature. More than that - they are polarizing entities. Those who love them, really love them. To those who do not, heavy music can often seem aggressive, frightening and, at worse, offensive. It's little wonder, then, that for many years those bands at the more extreme end of the musical spectrum found scant opportunity to perform live on TV.
However, as the networks gradually opened up, both in the U.S. and the U.K., extending their schedules into late evening and night, and multiplying in number, spaces for ground-breaking and genre-evolving metal bands slowly began to open up. In the new century, acts such as Slipknot and Lamb Of God finally made it to the audio-visual airwaves, something which would have been unthinkable not too many years earlier.
With this list we present 10 of the best and most memorable performances by heavy bands on mainstream TV. From the historic to the triumphant and the just plain bizarre, every entry on this list has something extraordinary to offer.
Black Sabbath on 'Top of the Pops' (1970)

We journey way back in time here for a live performance by one of the most revered bands in the history of heavy rock music, with a song from one of the most influential albums of all time. 1970 was the year that English group Black Sabbath released the astonishing Paranoid, their second studio album, and the one that arguably catapulted the group to another level.

This was also a watershed moment in English TV music history. Sabbath were one of the heaviest bands of the time, if not the heaviest, to play live on the BBCs flagship program, Top Of The Pops. Their performance of Paranoid's title-track nestled incongruously between polite pop and smooth singers, and introduced legions of fans to an entirely new music experience.

Ozzy Osbourne and company put on a masterful display. The song would go on to hit No. 4 on the U.K. charts while the parent album went on to become rightfully regarded as a cornerstone of heavy rock history.

Napalm Death on 'What's That Noise?' (1989)

Back to the late-80s for this entry, and quite possibly the oddest on this list. What's That Noise? was a largely harmless and now long-forgotten show aimed at a family audience (with an educational slant, no less). The series was fronted by a pre-Red Dwarf Craig Charles, who also led his own house-band on the show, Sons Of Gordon. Charles, of course, is now a respected music DJ, but how English grindcore outfit Napalm Death secured a gig on this otherwise-respectable platform is a mystery.

The band performed two numbers (technically). The first was "You Suffer," which clocks in at just under a second (described by the group in Kory Grow's book, Slaves To The Grind, as "It's ridiculous, but it was hilarious. We played that song in front of 30 local kids, like, every weekend. We played that song 30 times. It was a laugh.") This was followed by the decidedly longer "From Enslavement To Obliteration."

Kudos to Craig Charles. Not many presenters could link so charmingly from a children's orchestra to such heavy metal hoodlums. You'll want to share this clip with your friends.

Rage Against The Machine on 'The Word' (1993)

Another U.K. entry here. This time, The Word, which occupied the late night slot on Friday evenings, and remains one of the most influential English entertainment shows of all time. The show's laid-back presenters, who included Terry Christian and a young Mark Lamarr, allowed (perhaps encouraged) their guests to be controversial.

Music formed the core of The Word, and the program featured some fine acts in its time, including Stereolab and Oasis, but none as incendiary as American political rockers Rage Against The Machine. The song they performed, "Killing In The Name," featured on the band's self-titled debut album.

That album courted controversy right from the start thanks to its cover image – a photograph documenting the self-immolation of a Buddhist monk to protest Vietnamese oppression in 1963. Back then, that photograph caught the attention of no less than John F. Kennedy, prompting him to officially withdraw support from the Vietnamese government.

Lyrically, "Killing In The Name" addressed the abuse of power by authorities and, in its way, the song is as emotionally powerful as the album's cover. The band put on a powerhouse display here, ramping things up to a thunderous level.

Faith No More on 'TFI Friday' (1997)

Hugely popular in its day, TFI Friday ran for six series, between 1996 to 2000. It's brief was twofold – to provide both a celebration of the week's end, and to put viewers in party mode, set for a good night out. That said, the program embraced a wide range of musical acts from Aerosmith to Elton John. Faith No More arguably outshone them all.

The song that they played, "Ashes To Ashes," came from the band's sixth studio long-player, Album Of The Year. According to bassist Billy Gould, speaking in an interview with Keyboard Magazine, the bulk of the song was completed and then sent to singer/lyricist Mike Patton. "He was in Italy, but he came up with the lyrics and the singing right away. It was one of those songs that just clicked — one of those songs that we do most naturally. That's our sound."

Album Of The Year stands as one of the group's most poorly regarded efforts, with The Guardian branding the record "unfinished and barely listenable," while at the same time including "Ashes To Ashes" in its list of 10 Best Faith No More Songs. Many fans would vehemently disagree with the former while firmly supporting the latter. As you can see from the video, the band laid on a superlative performance, full of their trademark emotion and class.

System Of A Down on 'Late Night With Conan O'Brien' (1998)

Running for an astonishing 2,725 episodes between 1993 and 2009, this second incarnation of the Late Night TV show featured Conan O'Brien as main presenter following Dave Letterman's defection to CBS. They were big shoes to fill, but O'Brien was a masterful host. Suede, King Crimson and Phish all put in memorable appearances and all are worth tracking down for viewing. By far the heaviest to grace this particular stage, however, were Armenian-American System Of A Down.

The band would go on to enviable success, releasing five studio albums, three of which debuted at No. 1 on the Billboard chart, plus a Grammy Award for Best Hard Rock Performance, with sales in the tens of millions across the globe. Back in 1998 — the year of their first, self-titled album — the band performed a track from that record, "Spiders."

Never ones to shy away from an opportunity to let loose, the musicians gave it their all. With three of the players shirtless, guitarist Daron Malakian whirling menacingly and lead singer Serj Tankian declaiming wide-eyed in an elaborate, almost ceremonial robe, viewers must have wondered what on Earth was going on. America, awake!

Slipknot on 'Late Night With Conan O'Brien' (2000)

"Utterly terrifying" are the words that spring to mind concerning Slipknot's network television debut back in 2000 on Late Night With Conan O'Brien. Hats off to O'Brien for showcasing another uncompromising and decidedly non-mainstream act, who he described as "one of the hottest bands in the country."

The group performed "Wait And Bleed" before a largely unsuspecting audience (both at home and in the studio), a display which no doubt shocked and astonished, repelled and attracted in equal measure. Twenty years on, it remains an incredible watch.

Never before, surely, had an audience been exposed to such a disturbing and radical sight. The band, wearing red jump-suits and macabre masks, let rip on the crowded stage, pogo-ing, head-banging and thrashing for all they were worth.

The song, released as the lead single from the band's self-titled debut album, reached No. 34 on the Billboard Mainstream Rock Chart with its parent record hitting No. 51 on the Billboard 200.

Lamb of God on 'Jimmy Kimmel Live!' (2015)

Richmond, Virginia's Lamb Of God stirred up high emotions with their performance of "512" on Jimmy Kimmel Live!'s outdoor stage. It's a song of astonishing personal relevance to lead singer Randy Blythe, who penned the number in response to his weeks spent in jail in the (then) Czech Republic's Pankrác Prison. The musician found himself there, indicted on manslaughter charges in 2012, following the death of a 19-year-old fan during a LoG concert. Blythe was eventually acquitted with judges ruling blame for the tragedy largely rested with the concert's promoters.

"512" (the number of one of three cells Blythe occupied) addresses the singer's mental state at the time. In an interview for Rolling Stone, he observed: ""You cannot have the same mentality as the normal guy living on the streets in prison. You undergo a radical mental and emotional shift...You have to be ready for violence at any time. Anyone who is 100 percent honest in prison will get taken advantage of, maybe by other prisoners, maybe by guards."

The band put on a fine show, whipping up the crowd into an admiring frenzy. A word must be said concerning Blythe's exemplary conduct both during and following his trial. Throughout, he behaved with empathy, dignity and genuine concern for the grieving family and for the future safety of his fans.

Mastodon on 'The Late Show With David Letterman' (2011)

Was there ever a band more suited to their name? Troy Sanders (bass), Brent Hinds (guitar), Bill Kelliher (guitar) and Brann Dailor (drums) formed in 2000 and have since released eight studio albums of mammoth, unstoppable heavy rock. Irrepressible and ambitious, it's arguable that no group but Mastodon would have the chutzpah to attempt a concept album based on Herman Melville's novel, Moby Dick.

In 2011, the band were promoting their fifth album, The Hunter. For their Letterman appearance, they played "Curl Of The Burl," the album's second single, which also proved to be the group's most successful song on the Mainstream Rock charts and even earned them a Grammy nomination for Best Hard Rock/Metal Performance.

"They've been on the show before," said Letterman, by way of introduction, "and the response was so tremendous we said, 'By God, we've got to have them back.'" If Mastodon impressed before, they excelled again here, putting in a bruising, thumping performance.

Metallica on 'The Late Show With Stephen Colbert' (2021)

Legendary heavy rocker's Metallica celebrated the 35th Anniversary (to the day) of their celebrated third studio album, Master Of Puppets, by appearing live on The Late Show to perform one of that record's most-loved songs, "Battery." The album in question, enthused host Stephen Colbert, "had such an impact that it was added to the National Recording Registry of the Library of Congress." The band played live in front of the original backdrop from their historic 1987 Damage, Inc tour.

"Battery," which was the opening track on Master Of Puppets, references Battery Street in San Francisco, a location that's home to many of the clubs the band first played in and served as (presumably) something of a brutal musical education. One of the 'big four' bands credited with developing the thrash metal sound (alongside Megadeth, Anthrax and Slayer), Metallica's Master Of Puppets remains a pivotal landmark in heavy rock's journey.

The group sound remarkably fresh and convincing here, pouring as much sweat and feel into the song as they had over three decades earlier.

Ghost on 'Jimmy Kimmel Live!' (2022)

Not the heaviest on this list, perhaps, but a fascinating appearance by an intriguing band, here. Swedish heavy rocker's Ghost, formed in 2006, releasing their full-length debut album Opus Eponymous in 2010. The group, who perform in striking costumes, can claim the distinction of making influential metal magazine Kerrang!'s list of 50 Most Evil Songs Ever. Seven of the band's eight members habitually don dark clothing with face-concealing masks, often of monstrous or demonic nature. Lead singer, Tobias Forge, in contrast, sports variations of what can best be described as an anti-cleric, or anti-pope outfit.

For this performance on Jimmy Kimmel Live!, Ghost provided an extravagant display from the Mountain View Mausoleum in Altadena, Los Angeles. It is a building of much significance. Designed by renowned architect Cecil E. Bryan (a student of Frank Lloyd Wright), the mausoleum's focal point is its 180-foot-long Great Gallery with a vaulted, hand-painted ceiling. Actor George Reeves, activist Eldridge Cleaver and physicist Richard Feynman are three of many notable names interred within.

It proved a perfect setting for the band, who put in an excellent performance.