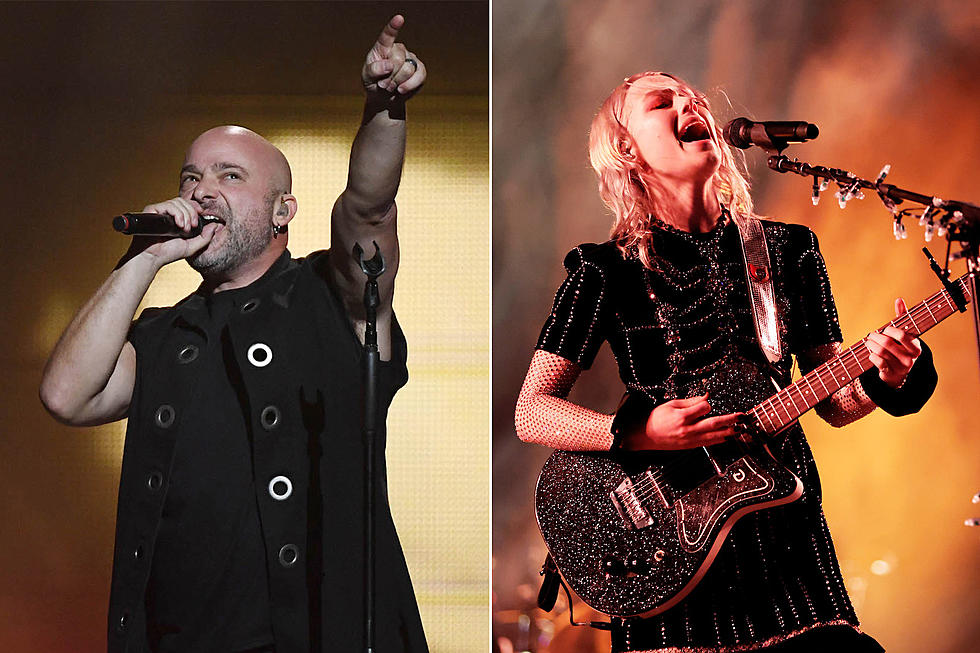 David Draiman Reacts to Phoebe Bridgers' 'Down With the Sickness' Show Entrance
Ethan Miller, Getty Images / Amy Sussman, Getty Images
Phoebe Bridgers has been making headlines in the rock community for a few years now, but did you know that she often uses Disturbed's "Down With the Sickness" as her entrance song during her performances? David Draiman took notice, and has praised the singer for her use of the track.
According to Setlist.fm, Bridgers first started her show with "Down With the Sickness" as early as April of 2022, so we're all a bit late with catching on. However, the singer is currently one of the supporting acts on Taylor Swift's massive Eras tour, and someone uploaded a TikTok of her coming onstage to the Disturbed hit that caught the attention of Draiman himself.
In the video, Bridgers' name can be seen written in a metal font on the stage's side monitors as the animalistic drum intro to "Down With the Sickness" blasts through the speakers, and then flames engulf her name on the screens as her band takes the stage. Though one might not expect many Swifties to be fans of Disturbed, the crowd actually seemed pretty into it.
Then, Bridgers and the band broke into her song "Motion Sickness," so perhaps the use of the Disturbed track is intentional because of the similarity in the song titles.
READ MORE: What 10 Artists Thought About Huge Bands That Covered Their Songs
"This is absolutely amazing!" Draiman wrote in a tweet with a link to the TikTok. "Love it! You're welcome to come see our show whenever you want!"
See the video and Draiman's tweet below.
Bridgers won the hearts of a few rockers in early 2021 after she smashed a guitar during her Saturday Night Live performance. Though David Crosby wasn't a fan of the stunt, Dave Grohl and his mom were, as well as DragonForce guitarist Herman Li. She was also invited to cover Metallica's "Nothing Else Matters" for their 2021 Blacklist album, which featured covers of songs from The Black Album by artists from all different genres.
The 12 Most 'Metal' Artists That Aren't Actually Metal
The most metal artists that don't actually belong to the metal genre.