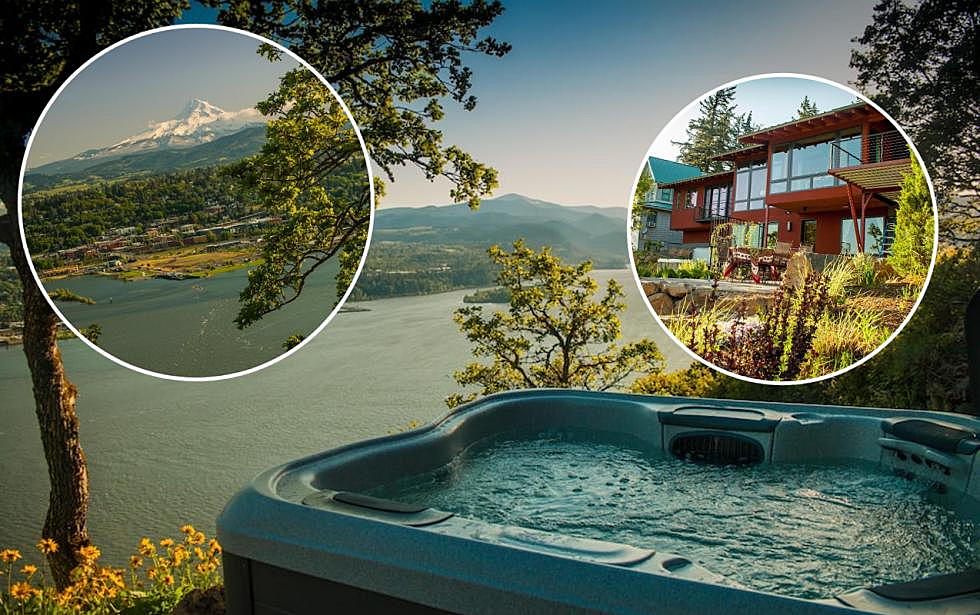 Find Passion & Romance With a Hot Tub View of Mount Hood at Washington Airbnb
Laurel And Virgil on Airbnb
This White Salmon, Washington Airbnb offers a view of Mount Hood and the Columbia River right from your hot tub.
When I was in the process of buying my condo, a co-worker told me "any time you have the chance to live in a house with a view, do everything you can to buy the house with the view." So, we bought the house with a view and we've never regretted that decision once. We can see the Fourth of July fireworks displays put on by not just the cities of Pasco and Kennewick, but the residents of West Richland. Fighter jets fly right over our roof during the summer boat races and we can see how traffic is on the Blue Bridge before we even leave the house. I thought I had a great view of the Columbia River, but then I saw this Airbnb in White Salmon.
It's incredibly hard to top that. If you've got a big anniversary coming up or just feel a strong urge to take your loved one somewhere that takes their breath away, you've gotta hop onto Airbnb and see some of the incredible listings in the Pacific Northwest.
From the balcony, you can see ferries, boaters, jet skiers, and of course the natural beauty of the Gorge, Mount Hood, and the Columbia River.
White Salmon is less than two and a half hours away from Tri-Cities and provides some of the best natural beauty you can find in all of the northwest. When you think about it, $200 is close to what most people pay for a night at a hotel, but those hotels don't have views of Mount Hood and the Columbia River that you can take in while soaking in an outdoor hot tub. The living space also offers modern amenities like a gas fireplace, TV, DVD player, and sound system. There is also an outdoor shower for hopping in before and after you relax in the hot tub.
So, now you're in White Salmon and you're looking for things to do. Hood River is just across the bridge with its wineries and breweries.
My wife and I used to take trips down to Portland to "vacation" but always ran into issues with finding a decent hotel that didn't cost an arm and a leg. This Airbnb is just over an hour away from Portland and all of the interesting city fun it has to offer. Maybe you're looking for a place to stay for an upcoming concert or Portland Trail Blazers game.
Instead of finding a place to stay, now you can have a full getaway experience. It's a damn shame that my wife reads all of my articles so she's going to know about this place before I have the chance to whisk her away for a romantic destination vacation.
LOOK: This Magical Dome Airbnb is All the Rage in Bend, Oregon
I've been using Airbnb instead of staying at hotels for quite some time. They're typically cheaper and if not, far cozier and "lived-in." There's a heart that you can feel when you step inside a rental that's been well cared for.
In all of my travels across Washington and Oregon, I have never seen an Airbnb rental with as much character as this geodesic dome in Bend. It gives me hints of Return of the Jedi and even some Lord of the Rings. I've never stayed in Bend, Oregon but this rental has me making some plans. See what I mean below.
LOOK: Walla Walla Vineyard Estate Has Us Desperate to Find $3 Million to Buy It
Walla Walla is renowned for its wine, but how often do its wineries become available on the market? If you're like me, you're probably pretty curious about what it's like to own one. Be curious no more, this property will leave you in amazement and sheer jealousy.
We're in Love With This Kennewick Colonial Home With an Orchard & Columbia River View
Even though it's off the market now, I want to take you on a little tour of this colonial home in Kennewick. The home is beautiful but the property is drop-dead stop-dead spectacular. Come take a look!
Texas' Housing Market Will Make You Want to Move Away From Tri-Cities
The housing market in Tri-Cities is insane. Forget just Kennewick, Pasco, and Richland! Even houses in Prosser and Benton City are going high! It's so crazy, my family members moving to Tri-Cities have been seriously downgrading. Take a look at my in-laws' home they sold in Texas. It has five bedrooms, three full bathrooms, two half bathrooms, it's over 4,000 square feet, PLUS it has an in-ground heated pool that's enclosed to keep the bugs out. How much would you pay for it? It sold for less than $450,000.
This house
in Kennewick sold for more money, had half the square footage, NO pool, and had far fewer bedrooms and bathrooms. Do you get where I'm going with this? Let's take a look inside my in-laws' former home and cry over a bowl of Ben & Jerry's ice cream.
A-Z: Celebrities You Didn't Know Were From Washington
Who knew Washington state was home to so many celebrities? So many, in fact, that it was really hard to pick who made the list. There were so many athletes and musicians to choose from that we started to look in other directions. We did have one rule, however. There are no serial killers or career criminals on this list. I would like to thank
Jeff Deminski
from New Jersey for this wonderful idea.