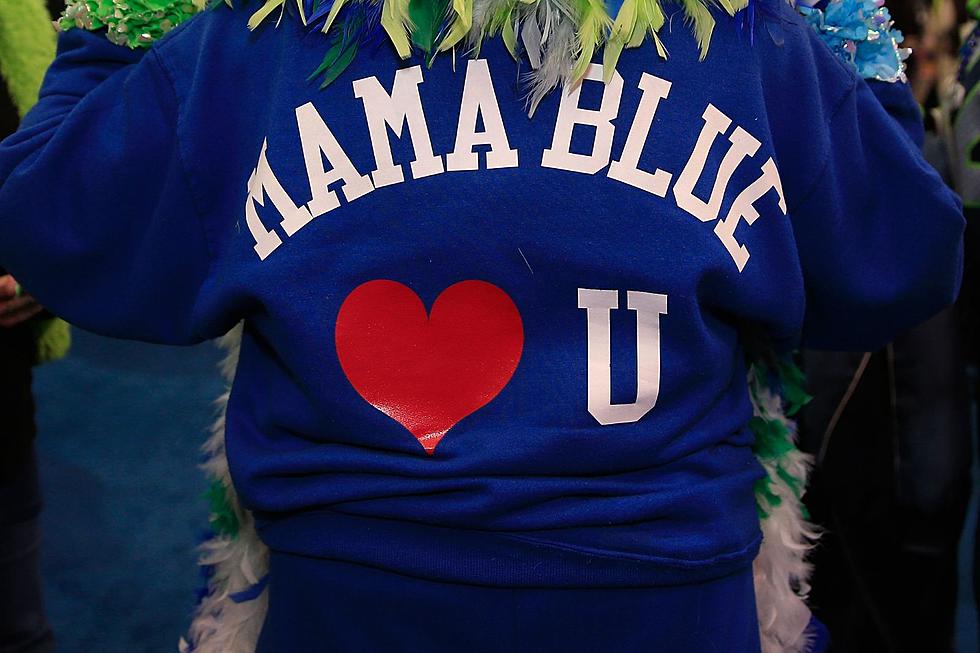 Seattle Seahawks Fans Mourn the Loss of Fan Legend Mama Blue
Canva-Getty
Mama Blue Dies March 4th, 2023
The Seattle Seahawks fanbase is in shock and mourning the loss of fan legend Mama Blue Patti Hammond.
Patti Hammond, the Seattle Seahawks Fan Legend
The first person I wanted to meet when I went to my first Seattle Seahawks game was not a player or a coach, it was Mama Blue. She has been screaming her lungs out for the Seattle Seahawks since their first home game until just recently. You could always spot her down front with her big blue & green glasses and wig. When you think of the words "Seattle Seahawks fan", Mama Blue should be the picture in your head.
Lucky to Know Her Personally
I was lucky enough to not only meet Patti Hammond many times but got to know her personally also through many Seahawks events. She was always the same person, patient with everyone, kind, humble, and overflowing with her love of the Seattle Seahawks. I thought of Mama Blue like she was my Seahawks Grandmother and I know thousands of other fans felt the same.
My First Interview with Mama Blue Patti Hammond
About 9 years ago, I started sitting in a section near her at Seahawks games. I work in media and thought she would make a great interview, so I walked over and explained what I wanted to do. She smiled, said of course, and was excited to share her love of the Seahawks.
How Mama Blue First Became a Seahawks Fan
I asked her how long she had been a 12 ( the new term for a Seahawks fan). Patti said "I bought the first season tickets out there. Bought them for my husband's birthday because I was an old cheerleader and he was an old football player. We graduated from Roosevelt in Portland and we love football. We went to all the Huskies games, and when I found out we're gonna have an NFL I said right on!
I Found Out We're Gonna Have an NFL (team), I Said Right On! -Patti Hammond
I told her that I had been watching her on TV since I was a little kid. She replied only the way Mam Blue could, saying "Scary isn't it?" "I just had my 83rd birthday on Thursday isn't that too much fun?" Then she started talking about her late husband she calls Tricky. "You know what, I lost Tricky 6 years ago, had him 60 years but you know what? We raised the 12th Man Flag in 07 and that was the last game he was able to attend. I think they (the Seahawks organization) did that on purpose because they loved him."
Mama Blues Favorite Seahawks Moment
I asked Patti what her favorite Seahawks moment was. She said "Well, I got so many. I could say getting inducted into the Pro Football Hall of Fame in 99. I was the first fan inducted in Canton, Ohio. I raised the 12th Man Flag in 07, I mean there's so many. Just being here, loving these guys, and I just finished a commercial with Russell Wilson for Alaska Airlines." Of course, I recorded this interview before the Seahawks won their first Superbowl in New York that she attended.
"Keep On Keepin' On"
One of the last things Patti said in my interview will stick with me forever. She said, "Keep on keepin' on, have a lot of fun, and you gotta just make your own darn fun!" You can listen to the full interview below.
Mama Blue Took Her Final Breath in Shoreline, WA
The family of Patti Hammond, Mam Blue, posted the sad message on Facebook late on Saturday night March 4, 2023. She had turned 92 years old last January 9th. the statement from the family reads:
"It is with great sadness and very heavy hearts that as a family we share that our beloved mom, grandma, great-grandma, great-great grandma, aunt, cousin, friend, and number 1 Seattle Seahawks fan, Patti Hammond, took her last and final breath in her Shoreline, WA home surrounded by family this evening March 4, 2023 at 7:20pm."
We all miss you terribly already Mama Blue, but like the advice you give in my interview, I will "keep on keepin' on" just for you! Go Seahawks!
The Greatest Seattle Seahawks of All Time
After the trade of Russell Wilson to the Denver Broncos, we can finally review his Seahawks legacy and career with totality. Where does Russell stand among the likes of Steve Largent, Walter Jones, and Kenny Easley? We are counting down the 25 greatest Seattle Seahawks players of all time.
Seattle Seahawks Game Images from the 1980's
A collection of images from the Seattle Seahawks seasons in the 1980's.