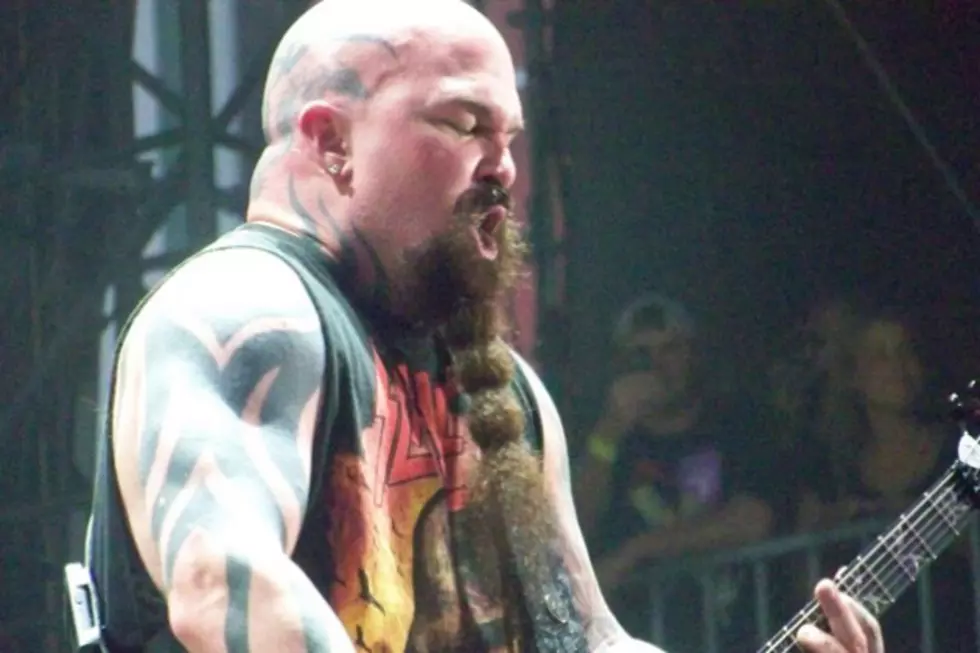 Slayer's Kerry King Offers Some Background Behind 'Unfortunate' Ousting of Dave Lombardo
Liz Ramanand, Loudwire
Slayer have been playing as part of Australia's traveling Soundwave Festival with a different drummer behind the kit. Jon Dette, who has performed with Slayer in the past, agreed to fill in after a financial dispute involving Dave Lombardo led to his current ouster from the band. Guitarist Kerry King told Soundwave TV that it was frontman Tom Araya who first pointed out that trouble was brewing.
King says in a video interview (posted below), "Tom's been on the fence about Dave for a while and I was pretty much the one that said, 'Nah, I'm not comfortable moving on [without Dave].' And then it got thrust in our face and I took action immediately and I got a very lucky culmination of things that happened."
The guitarist calls Lombardo's absence "unfortunate," but the timing of the incident forced him to move quickly. He explains, "I planned on him being here up until the Monday before I left. And then I saw trouble in paradise, and since I am the mastermind on making decisions like this, I was like, 'Alright, I've got to have a backup plan, just in case.' I would have hated to have just Australia blown out. Can you imagine how s---ty that would have been? So I did what I thought was best and we pulled it off."
Dette happened to be filling in for Anthrax during their Australia shows, so Slayer was able to take advantage of that coincidence and tap the stickman to play their shows, as well. King says, "He's doing really good … He was completely out of playing for a while, he told me. And then to just be at the level of playing that he is, it's really awesome." Footage of Slayer's entire Sydney performance with Dette behind the kit can be seen below.
To see King's full interview, which also includes the guitarist speaking about the progress of Slayer's next album, check the videos below.
Watch Slayer's Kerry King Speaking With Soundwave TV (Part 1)
Watch Slayer's Kerry King Speaking With Soundwave TV (Part 2)
Watch Slayer's Set From the Sydney Stop of the Soundwave Festival