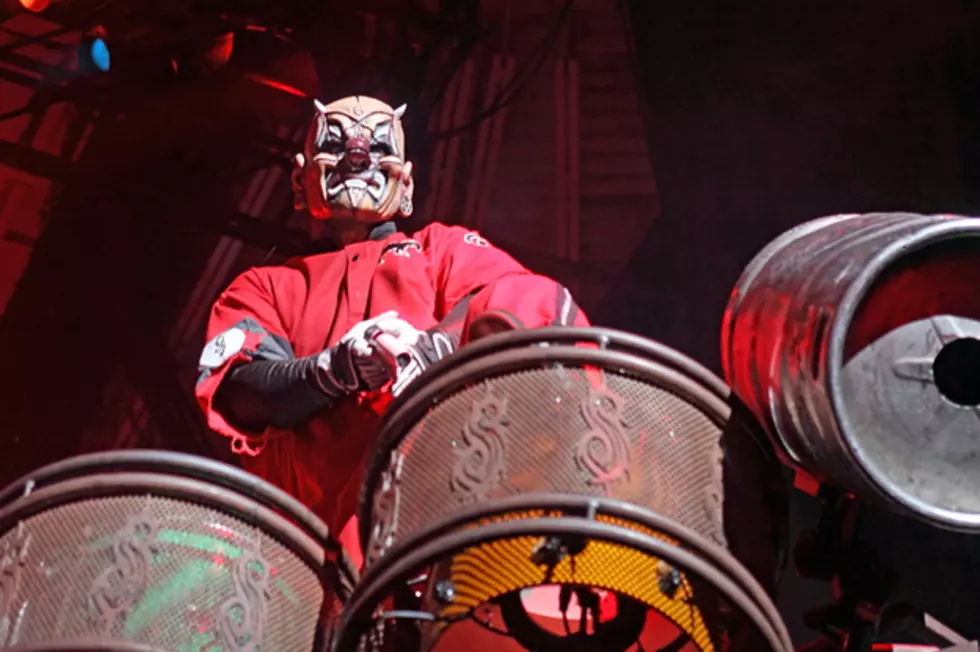 Slipknot's Shawn 'Clown' Crahan Sheds Tears While Watching Son Record Vocal Tracks
Mary Ouellette, SheWillShootYou.com
Just because you're in a seriously pissed off metal band with songs that contain lyrics such as "I want to slit your throat and f--- the wound" doesn't necessarily mean you don't have a soft side. Slipknot percussionist / backup vocalist Shawn 'Clown' Crahan has a son who is also in a band, and as Clown witnessed his spawn record vocals, the mad carnival villain couldn't help but shed a prideful tear.
Clown recently posted a message on his Facebook page that detailed a touching tale about the experience of watching his 19-year-old son Gage sing on a track called 'Sad Things.' Be warned: If you prefer to view Clown as a drooling, demonic circus creature, the following post may put some cracks in that illusion.
I took my son Gage and his friends AJ and Todd to Jr's Motel Recording Studio tonight. I actually cried watching my son sing. These young men slammed so hard through All their takes it was literally impossible not to take their pain serious. They are 19 years old and doing it. I won't lie, watching their anger made me feel a little old, but that's only because they reminded me about everything I've done and who I am. Personally watching my son sing was so personal and real it made me so proud. I've lived now. When ever I want to hang it up for good I can because there is a new Crahan in town and he is coming for the world with his dream. Today was a great day. I am trully blessed to have these men in my life. I can't wait to watch them stick their foot up everyone's ass. I have the biggest smile right now. Again, today was a beautiful day. I love you Gage, AJ and Todd. Stick it to this world. Thank you.
Clown has stated in the past that if he was ever to leave Slipknot, the percussionist would consider it an honor for Gage to strap on the mask and keep Crahan blood flowing through the veins of the multiplatinum metal band.
In other Slipknot news, an online group launched in 2011 has been petitioning for the band to perform on 'Saturday Night Live.' Clown has actually endorsed the Facebook petition personally, acting as one of the 8,000+ likes the page has gathered. Both Clown and Roadrunner Records have plugged the cause on their respective Facebook pages, and to support the cause yourself, head to 'Slipknot for Saturday Night Live.'
Stay tuned for everything Slipknot as news about the band continues to break.