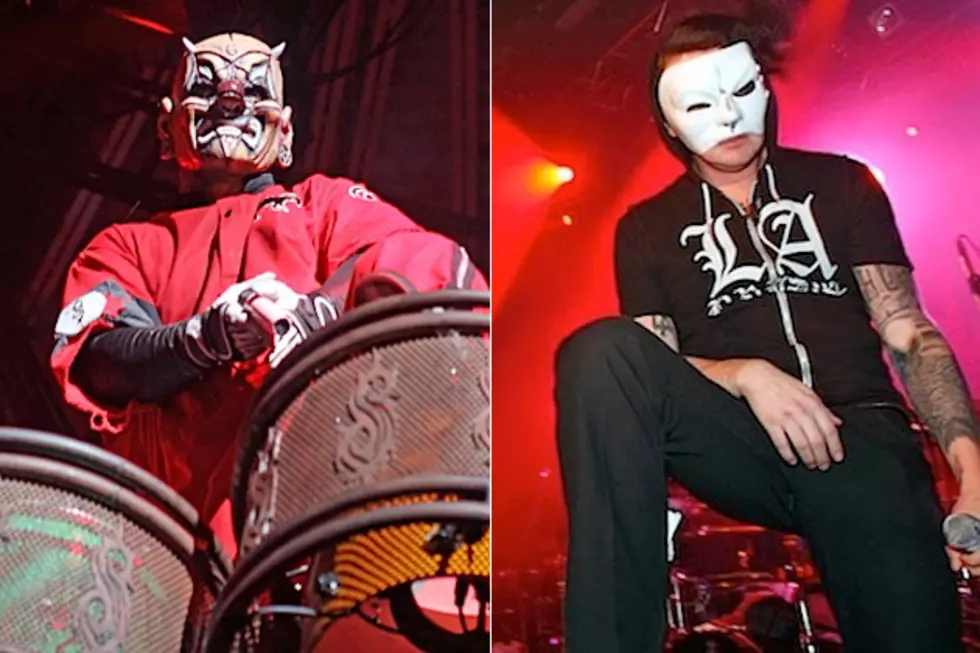 Slipknot's Shawn 'Clown' Crahan to Direct Video for Hollywood Undead Track 'We Are'
Mary Ouellette, shewillshootyou.com / Ethan Miller, Getty Images
Hollywood Undead are gearing up to release their third studio album, 'Notes From the Underground' in 2013. With another year coming our way, rock and metal acts from around the world will attempt to create the biggest buzz of the year, capturing the spotlight for themselves and their music. To give Hollywood Undead a little extra boost for the new single 'We Are,' the band has recruited Slipknot's Shawn 'Clown' Crahan to direct the song's music video.
Crahan has helped Slipknot achieve phenomenal success since the group's inception, and the artist will now seek to lend his talents to Hollywood Undead for the 'We Are' video. "We are very excited to be working with someone that thinks as progressively about their art as we do," says Hollywood Undead's Da Kurlzz. "Clown is a great director, and together we are going to deliver something truly memorable."
Band member Johnny 3 Tears elaborates, "The song ['We Are'] is about collective resistance. It's the silent majority, but we're using Los Angeles as the backdrop. Every time we work with Danny, he takes our music to the next level. Think of it as an ode to our misled youth."
Johnny continues, "We've maintained an underground identity. When we write songs, we're coming from a place people don't like to look at or talk about openly. As people get older, they get used to lying. We have a bond with so many kids because they appreciate that honesty. They don't know how bad some things get yet. We tell them the truth."
The 'Notes From the Underground' album title is an homage to the great Russian novelist Fyodor Dostoyevsky.
Stay tuned for the 'We Are' video and the 2013 release of 'Notes From the Underground.'