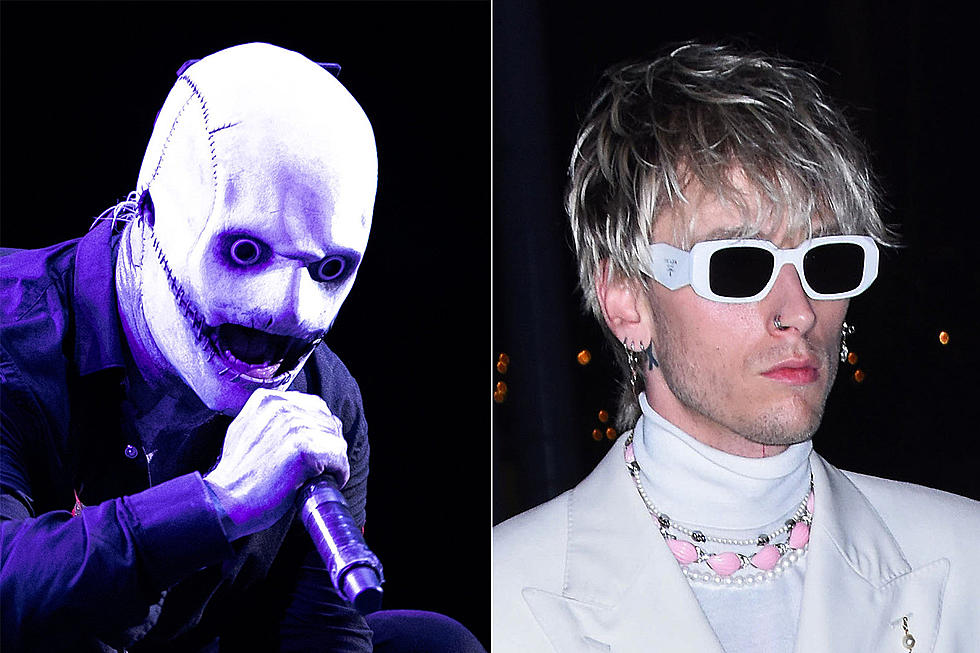 Study Finds Slipknot + Machine Gun Kelly Among Top Artists Who Swear in Songs
Photo by Anthony Scanga / RCF/MEGA/GC Images
Slipknot and Machine Gun Kelly may not be huge fans of each other, but they have a few things in common. A new study has found that the two are both among the Top 50 artists who swear in their songs.
The experiment was conducted by Lottie.org, which surveyed thousands of songs from the 1950s to the 2010s across various genres. Their findings show that song lyrics in the 2010s have 14 percent less "love words" in them than songs in the '50s did. And, on the contrary, song lyrics had 7 percent more swear words in them in the 2010s than the '50s.
Getting into the specifics, "shit" was the most-commonly used swear word in songs in the 2010s, followed by "bitch" and "hell." Lil Wayne was ranked the No. 1 artist who uses curse words in their lyrics. No rock or metal artists made their way into the Top 10, but Slipknot were ranked No. 33 and MGK was No. 41, as noted by Lottie.org's report.
Read the full study here.
It makes complete sense that Slipknot would make their way into the results, especially considering they have a song titled "People = Shit." In June of 2019, prior to the release of We Are Not Your Kind, a 'Knot fan on Reddit created a word cloud out of all of the band's song lyrics, and found that "never" was their most-commonly used word. "Fuck," "shit" and "hell" were included in the diagram as well.
The words "shit" and "fuck" appear pretty frequently on MGK's 2020 album Tickets to My Downfall as well, based on the Genius lyrics.
These findings are a bit of a coincidence considering the beef that's been going on since Kelly and Slipknot frontman Corey Taylor over the last several months. See more details on their feuding below.
Top 10 Artists Who Swear in Lyrics
Here's a Timeline of the Machine Gun Kelly vs. Corey Taylor Feud
Here's how it started and how it's going.