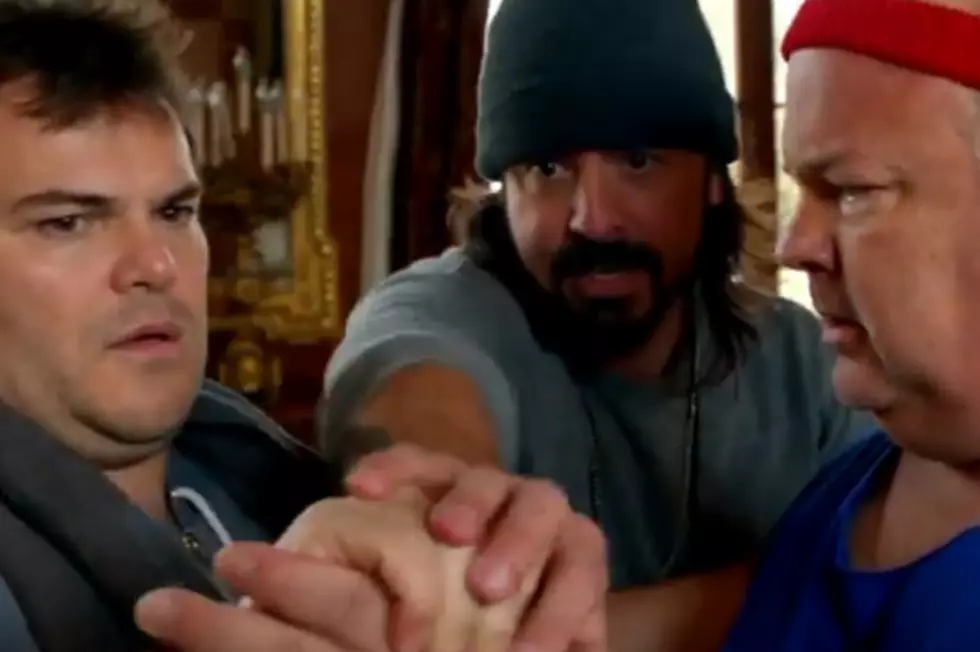 Tenacious D Aim 'To Be the Best' with Hilarious Celeb-Filled Video
Tenacious D go 'Behind the Music' in this new 6-minute video documenting their legendary return. This epic journey is filled with cameos from Foo Fighters' Dave Grohl, Tim Robbins, Val Kilmer, Jimmy Kimmel and…Josh Groban?
As is their style, 'the D' have always toyed with the reality of their band's origins — first with their short-lived HBO series and later in the hilarious, and for some reason commercially unsuccessful film, 'The Pick of Destiny.' Now that the comedic duo are set to return with 'Rize of the Fenix' — the aptly titled new album due out May 15 — it was only a matter of time before they released an awesomely self-deprecating video for our enjoyment.
The video begins with 'Extra' host Maria Menounos reporting on the status of Tenacious D. Right away the jocular tone is set when she states, "Tenacious D is more talented than The Beatles, Stones and Zeppelin combined." The mock-report documents the split of the D in the wake of their film's box office failure, complete with a solemn cameo from actor Tim Robbins.
Eventually we see a mega-rich Jack Black having tea with Val Kilmer and joking about working with Martin Scorcese — or Score-sa-za as he pronounces it. A crazed Kyle Gass then returns to win back his bandmate and accidentally shoots Kilmer, who, with his dying words, reunites Tenacious D.
The mockumentary fun continues with the band's efforts to regain their former glory, eventually spinning into a brief training sequence set to their montage-worthy new track 'To Be the Best.' With the help of Dave Grohl and Josh Groban, the band recovers their mojo and all is right in the universe once again.
Tenacious D's 'Rize of the Fenix' marks their first album since 2006′s 'The Pick of Destiny,' and is their third studio album. Dave Grohl assisted in making the album as well, providing the drums as he has on their previous releases. The D is set to embark on an international tour in May — beginning in California then heading to Germany, Netherlands and the U.K. before returning to the States.
Watch Tenacious D in 'To Be the Best'