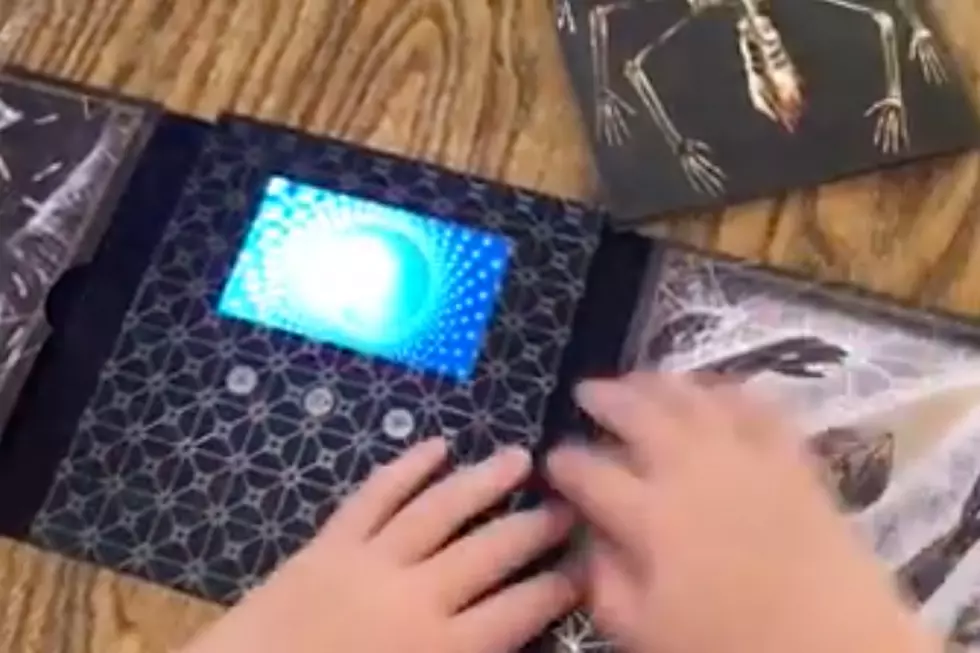 Tool's 'Fear Inoculum' Deluxe Edition CD Packaging Revealed
Facebook / Tool Fans México Oficial
Tool have assembled some serious state-of-the-art packaging for their fifth album, Fear Inoculum. Screenshots and fan-shot video of the deluxe CD edition can be found below.
"Continuing their affinity for pushing the boundaries of physical packaging, the Grammy Award-winning outfit has created a deluxe, limited-edition CD version of Fear Inoculum," the band announced in a statement. "The collectible offering, which was conceived by and directed by Adam Jones, features a 4" HD rechargeable screen with exclusive video footage, charging cable, 2-watt speaker, a 36-page booklet and a digital download card."
The special packaging was conceived by Tool's guitarist Jones, who's been behind many of the band's most distinctive visual elements over the years, including the packaging for Tool's 2006 album, 10,000 Days. That LP featured stereoscopic glasses built into its cover, allowing fans to view the album's artwork in 3D.
The limited-edition CD version of Fear Inoculum retails for $45 is is available for pre-order now, though most retailers are currently out of stock due to high initial demand.
Our first look at the deluxe Fear Incoculum packaging comes as hype surrounding the album hits its fever pitch. Over the past few weeks, the band has gradually released the name, artwork and title track for the LP, their first release in 13 years. On Aug. 2, they placed the entirety of their back catalog -- four full-length albums, plus the Opiate EP from 1992 -- on major streaming platforms, breaking records in the process. As a bonus, they put their six-song 1991 demo 72826 on YouTube.
The long wait for Tool fans is almost over. Fear Inoculum will be released on Aug. 30.
A History of Tool's Elaborate Album Packaging