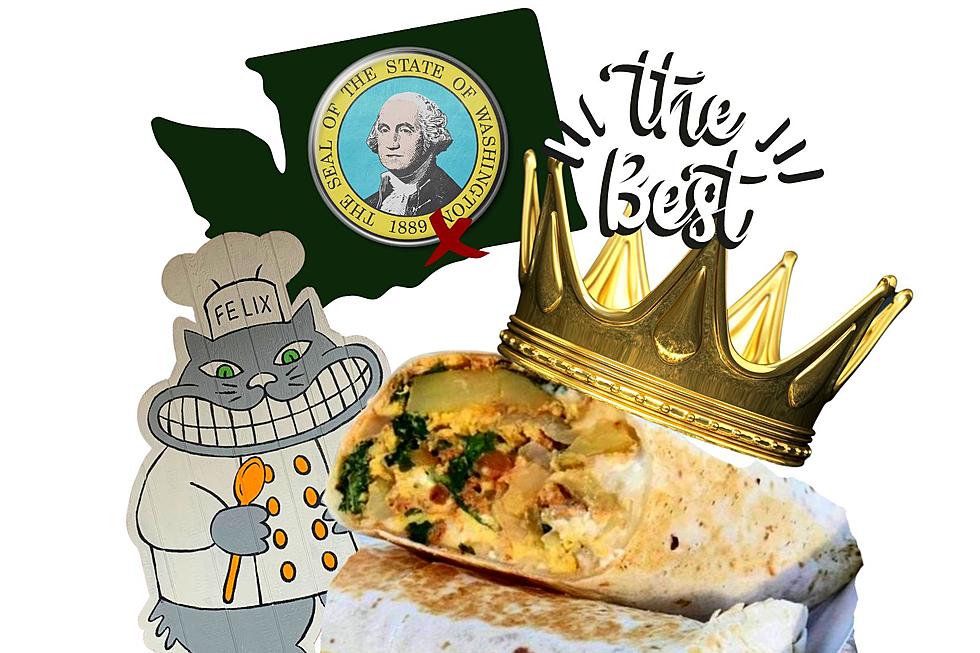 Tri-Cities El Fat Cat Grill Named the Best Burrito in Washington State
Canva-Getty
Local food favorite El Fat Cat Grill has just been awarded on a national list as the best burrito in Washington State!
The Best Burrito in Washington State
Full disclosure, I have loved El Fat Cat Grill since before they were the popular busy hangout they are today. That is why it was no surprise to me that they were just awarded the Best Burrito in Washington State by Yelp for 2023. I am just wondering what took everyone else so long to figure it out.
The Methodology to Find the Best Burrito
Yelp used its own review website to collect data on all businesses with reviews that contain the keyword burrito. Then they ranked those businesses on a number of burrito factors like the total amount of reviews and the overall review score. Businesses also needed to have all passed health inspections and had to be marked open as of February 2023 when the study data was collected. The full Yelp list of Best Burritos in every state is located at the bottom of this story if you're interested.
Where to Find the Best Burrito in Washington State
El Fat Cat Grill is located just off Edison Street at 539 North Edison Street, Kennewick, Washington 99336. They are open Monday-Friday from 10 am to 3 pm weather permitting. Be warned that they also can close early if they sell out for the day which DOES HAPPEN. They have had long lines for years because their food is just so darn great.
My Personal Favorite El Fat Cat Grill Burrito
My personal favorite (recently anyway) is the Farmers Burrito, but the lunch version without eggs. It comes with grilled baby red potatoes, beef, peppers, onions, sour cream, and cheese all stuffed in a flour tortilla. If you want eggs, ask for the "Morning Farmers Burrito".The Chicken Chorbada Burrito is also very popular and comes with your choice of pork or chicken, with chorizo, rice, cheese, pico de gallo, lettuce, & house mayo in a flour tortilla.
El Fat Cat Grill has More Than Burritos
The very first thing I was addicted too on the El Fat Cat Grill menu is the Tripple Threat Torta. El Fat Cat Grill does not use a normal torta bun. The bread is more like a hoagie roll and comes with grilled adobada pork, ham and bacon, sautéed onions topped with mozzarella cheese, and lettuce. House mayo on a toasted bun and served with coleslaw. Tacos and burritos are the most popular but do not sleep on the cheeseburgers because they are just as great.
I have been trying to eat everything on the menu. I only have all the Tostadas, the Fire Cracker Cheeseburger, the Vegetarian Burrito, the Green Hornet Taco, Felix's Chilaquiles, and a salad left to cross off my list. My biggest problem with completing the list is saying no to all my favorites that I already love.
El Fat Cat Grill Tips
The first tip is the most important. Make sure you get there early unless you want to wait. Once the high school down the street lets the students out for lunch around 11, the line can get long. The best times to grab your food is right when they open at 10 am or after 1 pm when the lunch rush has died down.
Second, have fun and try new things each time you go. Felix sometimes has new unique creations not on the regular menu they post as the "special of the day". ALWAYS try the special, you won't be sorry.
You can see the full Yelp list of Best Burritos in Every US State by clicking here.
Regional Fast Food Chains Tri-Cities Needs
As Tri-Cities keeps growing, we've seen more fast-food chains bring their food into our community. But we'd be lying if we said we didn't want a few more to set up shop down the street. Chicken sandwiches, sliders, deep-dish pizza; we'll take it all. These are the regional joints we can't wait to welcome with open mouths.