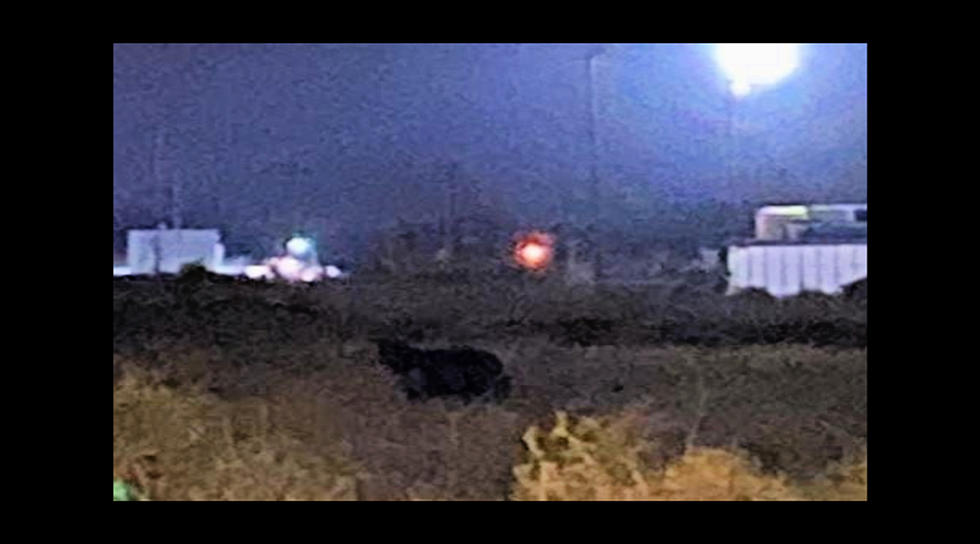 Was It a Bear, a Big Dog, or Bigfoot sighting in Hermiston? Whatever it is, it Hasn't Been Seen Since…
Credit: UmatillaCounty Sheriff's Office
Someone spotted what appeared to be a black bear Thursday night in Hermiston.
According to a post on the Umatilla County Sheriff's Office Facebook:
Bear Sighting - Westport Lane, Hermiston
Yesterday morning before 1am , October 21, 2021, an employee of USP called dispatch and reported an adult black bear was roaming the backside of the property off Westport Lane in Hermiston. UCSO Deputy Siex responded to the area and spotted a very large bear. He was able to get a quick picture. ODFW was notified. We have not received any other reports since then.
A UPS employee called the Sheriff's Office from the Customer Center on Westport Lane, after seeing a large animal roaming the land nearby. That call came in just after 1 am.
Upon arrival, a Umatilla County Sheriff's Deputy was able to snap a quick photo of what he described to be a big bear.
The Oregon Department of Fish and Wildlife was notified. (ODFW)
As of now, there haven't been any other bear sightings reported in the Hermiston area.
Posters on the Umatilla County Sheriff's Office Facebook page state that they believe it was a large dog. Both the UPS employee and Sheriff's Deputy confirm that they saw a large bear.
WATCH OUT: These are the deadliest animals in the world
Check out these 50 fascinating facts about dogs:
LOOK: Here are the pets banned in each state
Because the regulation of exotic animals is left to states, some organizations, including The Humane Society of the United States, advocate for federal, standardized legislation that would ban owning large cats, bears, primates, and large poisonous snakes as pets.
Read on to see which pets are banned in your home state, as well as across the nation.