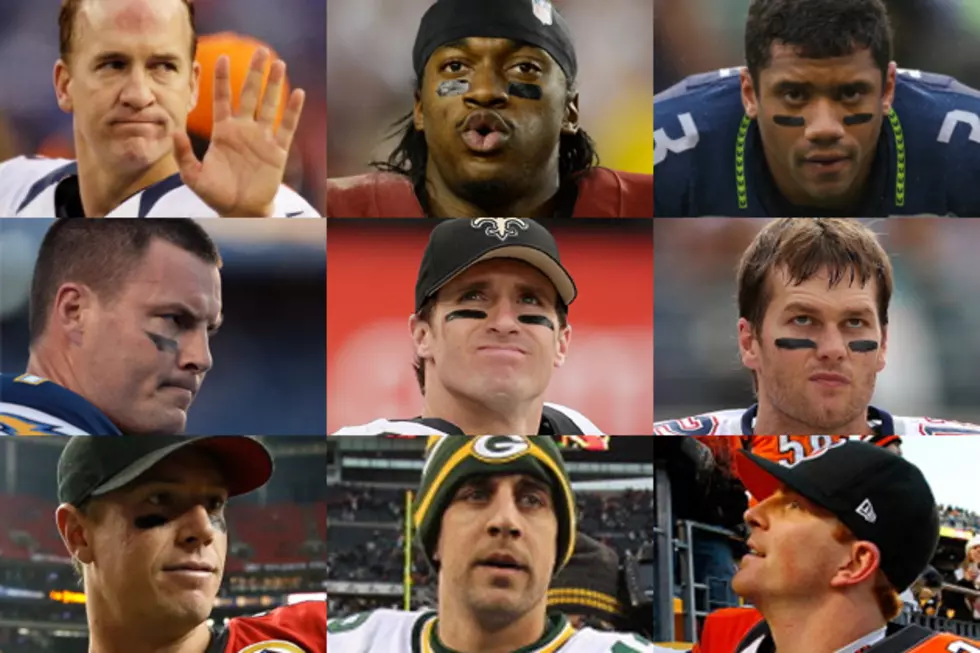 NFL Quarterbacks Discuss Wildcard Weekend on Facebook
(Photos by Rob Carr, Patrick McDermott, Otto Greule Jr., Donald Miralle, Ezra Shaw, Mike Ehrmann, Kevin C. Cox, Jonathan Daniel, Jared Wickerham for Getty Images)
The Bengals offense looked like pussy cats against the Texans, the Packers finally shut down Adrian Peterson to beat the Vikings, the Ravens managed to hold off the Colts, and as we all know, the Seahawks shocked the nation with a decisive win over the Redskins. It was definitely an entertaining weekend of football in the NFL.
Today, the QB's of the NFL and a few others took to social media to discuss the weekend. OK, it's not the actual players themselves conversing back and forth, but that is besides the point. This is hilarious!
The online exchange sees Tom Brady chatting with Peyton Manning while "The Mighty Aaron Rodgers", Drew Brees, Matt Ryan, Marshawn Lynch, Greg Jennings' sister and RG3's doctor. Ripping on one another and cracking jokes. Rodgers even does his best to keep Russell Wilson out of the discussion, but you know that isn't going to happen.
The best part of the entire exchange for me, being a Bengals fan, was the jab on Andy Dalton. Comedy gold via faux Peyton Manning:
Below is the first part of the lengthy conversation. For the entire discussion go to ProFootballMock.com.
WARNING: There is some graphic language used that may not be suitable for everyone.