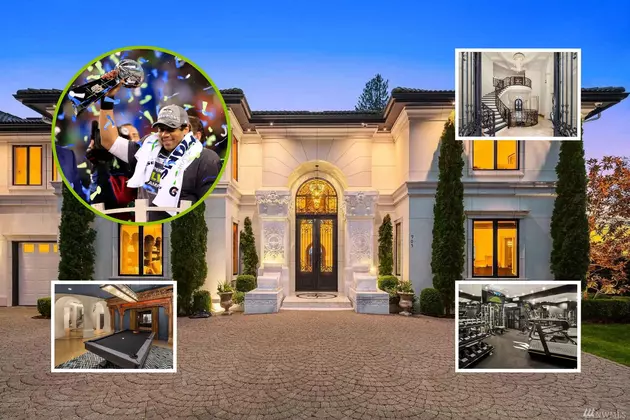 Seattle's Most Luxurious House is Actually Russell Wilson's [PHOTOS]
Carmen Gayton with WRE Seattle-Eastlake (Northwest Multiple Listing Service), Getty, Canva
Russell Wilson and Ciara are selling their $36 million Bellevue estate.
Russell Wilson joined the Seahawks in 2012, winning a Super Bowl during the 2013 season.
In ten seasons with the Seahawks, Wilson made the Pro Bowl nine times.
Wilson leaves the Seahawks as the franchise's leading passer.
Russell Wilson and his wife Ciara shared this 11,000-square-foot Bellevue mansion together with their two children.
The mansion is listed for $28 million but the listing also includes an additional lot, bringing the total asking price to $36 million.
When it was last listed in 2015, the asking price was around $6 million.
The home features many luxuries including a gym, dance studio, and recording studio.
The property features a dock that has room for four boats.
Russell Wilson's former home is brimming with luxury.
The home was built in 2007.
We know you're dying to see the rest of this mammoth of a modern castle, so come on in!
Seattle's Most Luxurious Mansion is Actually Russell Wilson's
After being traded to the Denver Broncos, former Seattle Seahawks quarterback Russell Wilson has listed his Bellevue home for $36 million. The 11,000-square-foot property features a theater, gym, recording studio, dance studio, and a private dock with a view of Seattle.
The Greatest Seattle Seahawks of All Time
After the trade of Russell Wilson to the Denver Broncos, we can finally review his Seahawks legacy and career with totality. Where does Russell stand among the likes of Steve Largent, Walter Jones, and Kenny Easley? We are counting down the 25 greatest Seattle Seahawks players of all time.