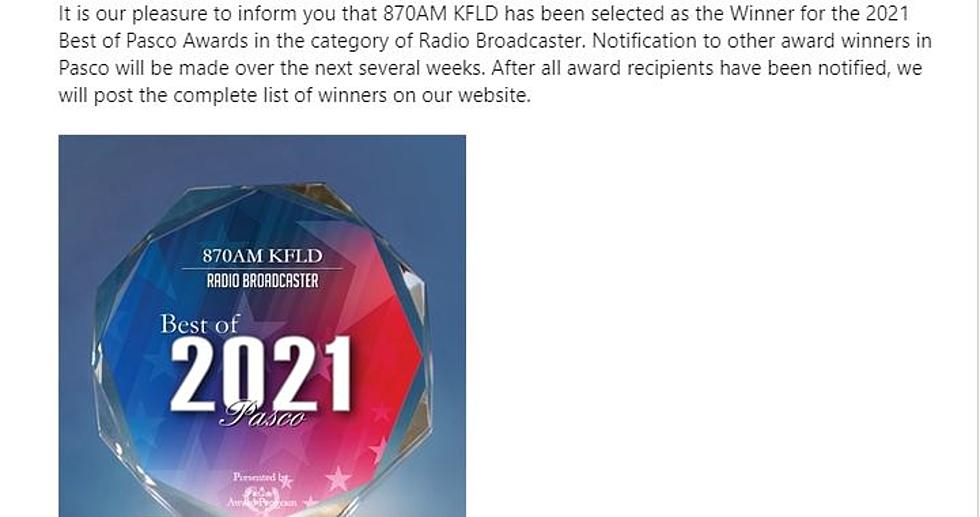 Beware of 'Best of Pasco Awards' Scam–Investigated by BBB
Newstalk870 KFLD
NOT that we're not into winning awards; well actually we could care less really. Not to be cynical, but awards don't necessarily mean you're doing a great job. They are nice, but...
Anyway, ironically on April 1st. (Thursday) 2021, we got an email from a "Louise Fleming" who identified her self as being with the Pasco Awards Program, of Houston Texas. Hmmm. She said we were given the award based upon our marketing expertise.
It contained the following information:
"It is our pleasure to inform you that 870AM KFLD has been selected as the Winner for the 2021 Best of Pasco Awards in the category of Radio Broadcaster. Notification to other award winners in Pasco will be made over the next several weeks. After all award recipients have been notified, we will post the complete list of winners on our website."
It contained links on how to obtain the actual award pictured, which we're pretty sure is Photoshopped.
Like most investigators, we immediately searched it to see if it was legit. Found nothing about Pasco Awards Program, EXCEPT a series of BBB and media reports from 2016 about a scam running out of -yes- Houston Texas.
Even the Walla Walla Union Bulletin reported on it on June 20, 2016. Their story mirrors others we found online, including a report about similar stories eminating from New York. 
The Union Bulletin warned about Northwest area businesses being targeted.
In the story from WHAM TV in Buffalo, entitled, "BBB Warns of Best of Award Scams," it details how the Better Business Bureau traced through the emails and information, and found it's a scheme where a company has not won anything, but the solicitation attempts to make them believe so. It's really designed to get them to purchase a 'vanity award' (plaque, trophy etc) at a vastly overinflated price. So, it's a scam.
They want you pay anywhere from $140 to $160 for an award that probably cost about $10-20 bucks to manufacture.
The WHAM TV story says the company was traced to a couple of URL's (website domains) registered to a "Nathan Bethel" with a company calling themselves Award Connections based in Houston.
So, we would advise if you are a Pasco based business and you receive any such email notification, MAKE SURE it's legit by searching it first.
And, you can do what we did. We bundled up all the email, website, content and other information and trundled it over to the Pasco Police Department.
We will follow up and let you know what happens next.
KEEP READING: These are the top 6 scams connected to the pandemic