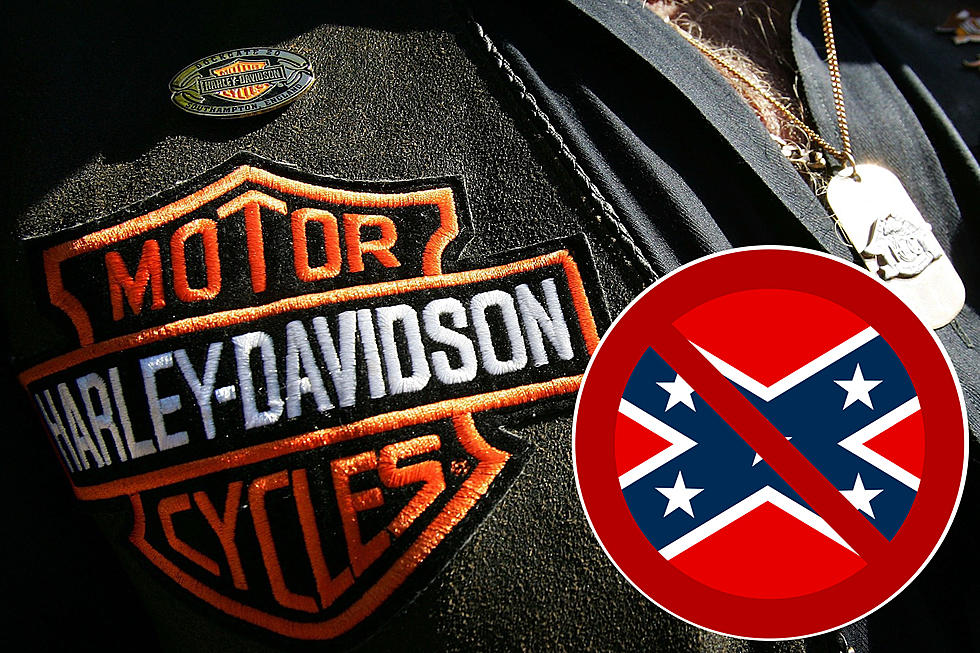 Woman Fixes Old Harley-Davidson Merch by Covering Confederate Flags
Cate Gillon, Getty Images
Though society has adopted a better understanding of why the Confederate flag is problematic in recent years, there's still a ton of memorabilia floating around that features it. A woman, who now owns an Etsy shop, recently began fixing old Harley-Davidson merchandise by covering the Confederate flags on them.
"I grew up in Milwaukee, Wis., the same place Harley-Davidson started. When I first discovered a vintage Harley sweatshirt at a thrift store with the Confederate flag I was disappointed but not surprised," she wrote in the description of her Etsy page.
"My first thought was, I know a lot of people that would proudly wear this and support what it stands for, I grew up around those people. My second thought was, I can't let that happen. I took the shirt home watched two hours of YouTube videos on how to embroider and picked up the new hobby."
Both the shop and her accompanying Instagram and TikToks are named Harley Gayvidson, and you'll notice that she actually embroidered a rainbow flag over the Confederate ones, which is a symbol of pride and support for the LGBTQIA+ community.
Two of the items in the shop range are priced at $50 and $100, which is a pretty common range for vintage T-shirts and sweatshirts. The Etsy shop notes that 6 sales have been made since she first created the Instagram a week ago, but now, BuzzFeed actually picked up one of her videos and uploaded it to their own page. With almost 6 million followers, the business will likely pick up quite a bit.
See the clip below.
According to The Biker Nation, Harley-Davidson banned the use of the Confederate flag on their products in 2015.
"It's been our longstanding approach that the Confederate flag may not be used by the company, its licensees or its dealers in connection with the Harley-Davidson trademark or logo, on any products, signs or other materials," the company said in a statement.
"We have, over time, made a very few, short-term exceptions in which the Confederate flag appeared in a design with the Harley-Davidson brand. These exceptions were primarily in the historical context, understanding that for some of our customers and dealers, the Confederate flag represents a very rich and proud heritage. These designs were reviewed on a case- by-case basis (for example, there was a small group of designs approved to commemorate the 150th anniversary of the Civil War and were primarily available at dealerships near battleground sites)."
Plenty of rockers have used the Confederate flag as part of their identity over the decades, such as Lynyrd Skynyrd. However, the band decided to stop using it in 2012, and guitarist and only remaining original member Gary Rossington told CNN, "Through the years, people like the KKK and skinheads kinda kidnapped the Dixie or Southern flag from its tradition and the heritage of the soldiers, that's what it was about... We didn't want that to go to our fans or show the image like we agreed with any of the race stuff or any of the bad things."
Read our op-ed on why the Confederate flag is a symbol of racism, and not rebellion, for more information and examples of why it doesn't belong in rock, or pop culture at all.
26 Classic Rock + Metal T-Shirts Everyone Has Owned